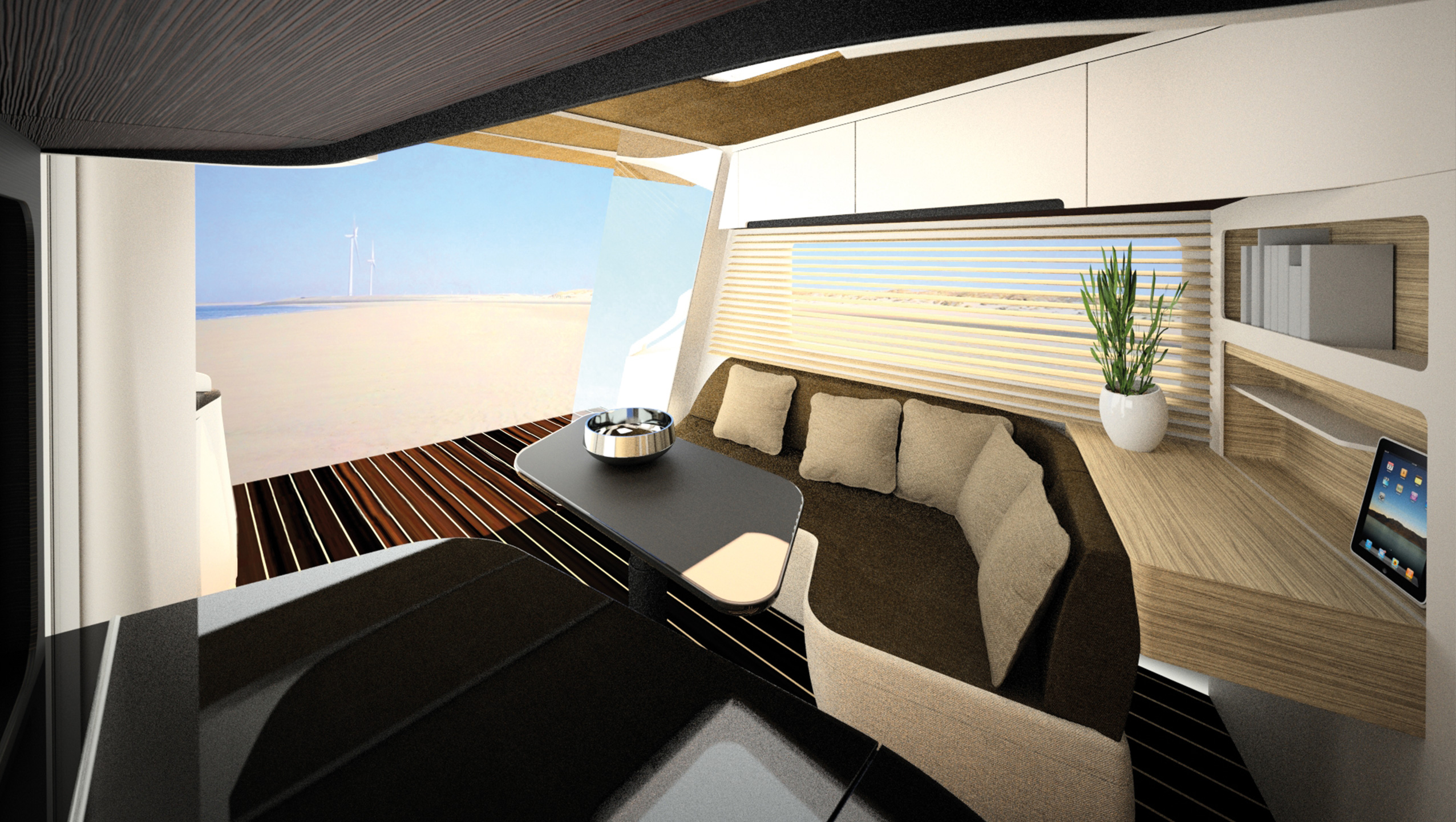 Caravisio interior
A revolutionary yacht layout with a trendsetting interior
Experience a connection to nature is one of the main reasons for vacationing in a campervan. With the open, yacht-like stern, the Carvisio offers a new, extremely comfortable way to spend time outdoors. New target groups can skip the traditional awning if they want to experience a different type of vacation culture.
Fresh colors and materials are reminiscent of a modern lounge or a yacht. The complete interior with a kitchen, bathroom and the fold-out and electrically controlled water faucets were designed by the STUDIOSYN team. A nearly two-meter long glass hood over the V-shaped beds in the bow allow for a view of the stars.



From the first sketch to the functional tradeshow mock-up, the Caravisio was developed in only one and a half years. STUDIOSYN worked on the interior and exterior design development in close collaboration with Knaus and the system suppliers.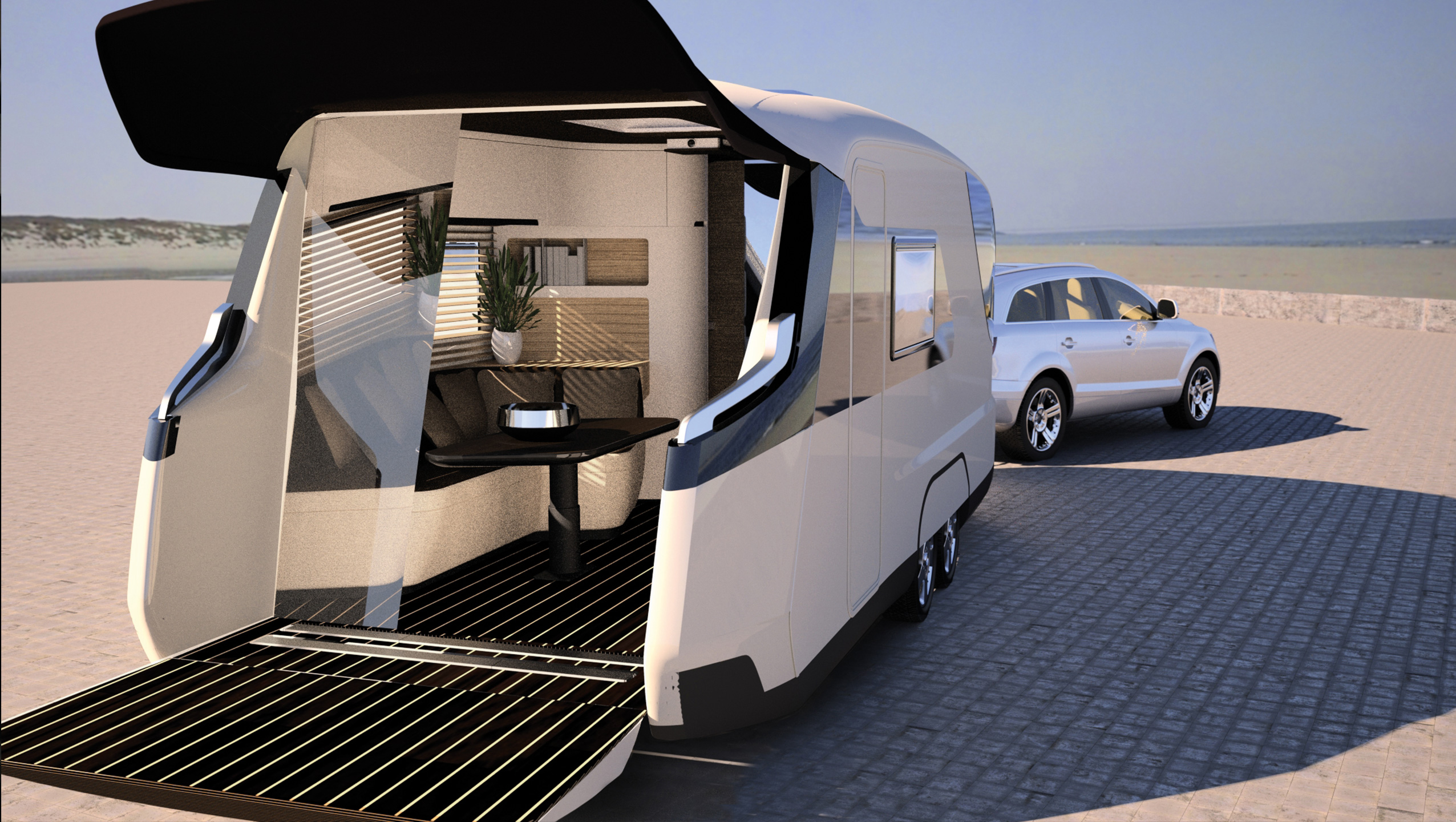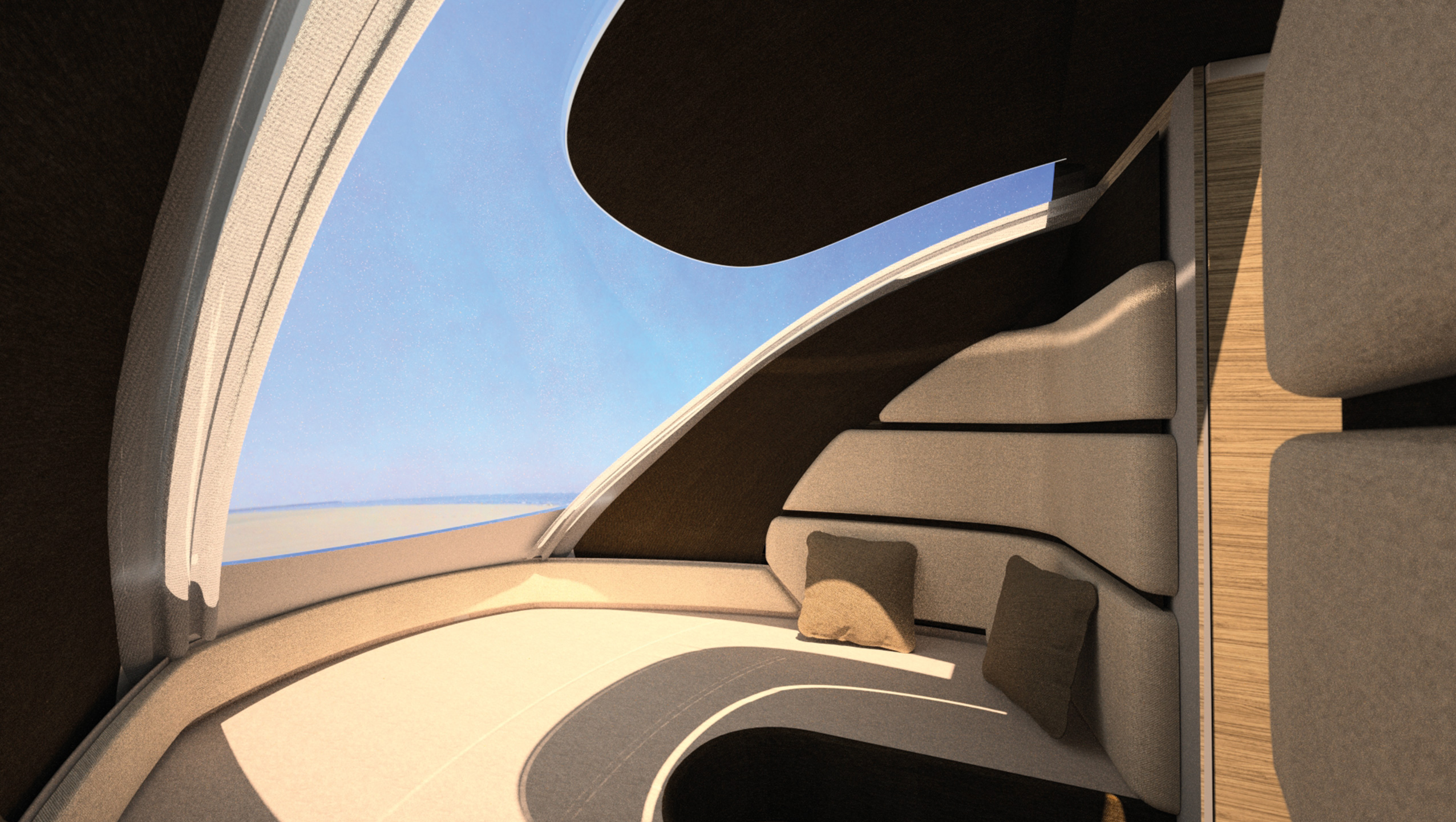 One of the strategies of the CARAVISIO was to transmit the standards and comforts from a motorhome to a camper. For this reason, a spacious bathroom is connected to the "bow cockpit". The actual living area resembles a yacht longue connected to the open stern with veranda.

The seating area can be converted and makes working on a laptop or tablet easy and convenient. These can be connected to the infrastructure of the vehicle, meaning they can be charged and stored away safely. The design of the seating area has a modern combination of colors and the blue stitching is another reference to the world of yachting. The color and trim of the interior follows the newest trends from maritime interiors: light oak, white lacquered fronts in contrasting black matte glass surfaces, a dark wenge parquet floor.
The ceiling is covered with dark textiles and lends the room a special atmosphere. A projector is integrated into the ceiling which is aimed on the sliding glass doors in the stern. When desired, you can use the projector to create a small outdoor movie theater with neighbors on the stern veranda.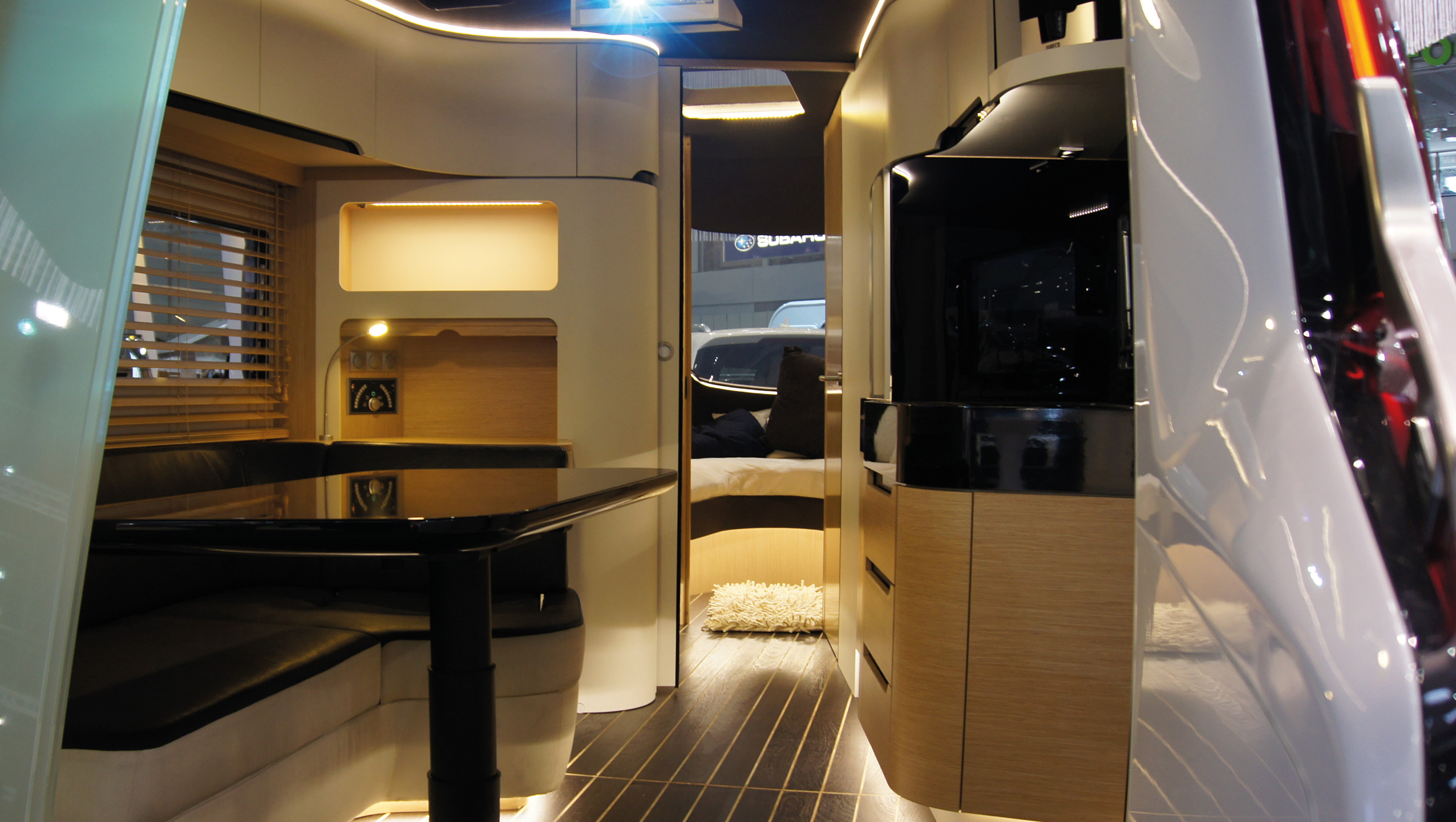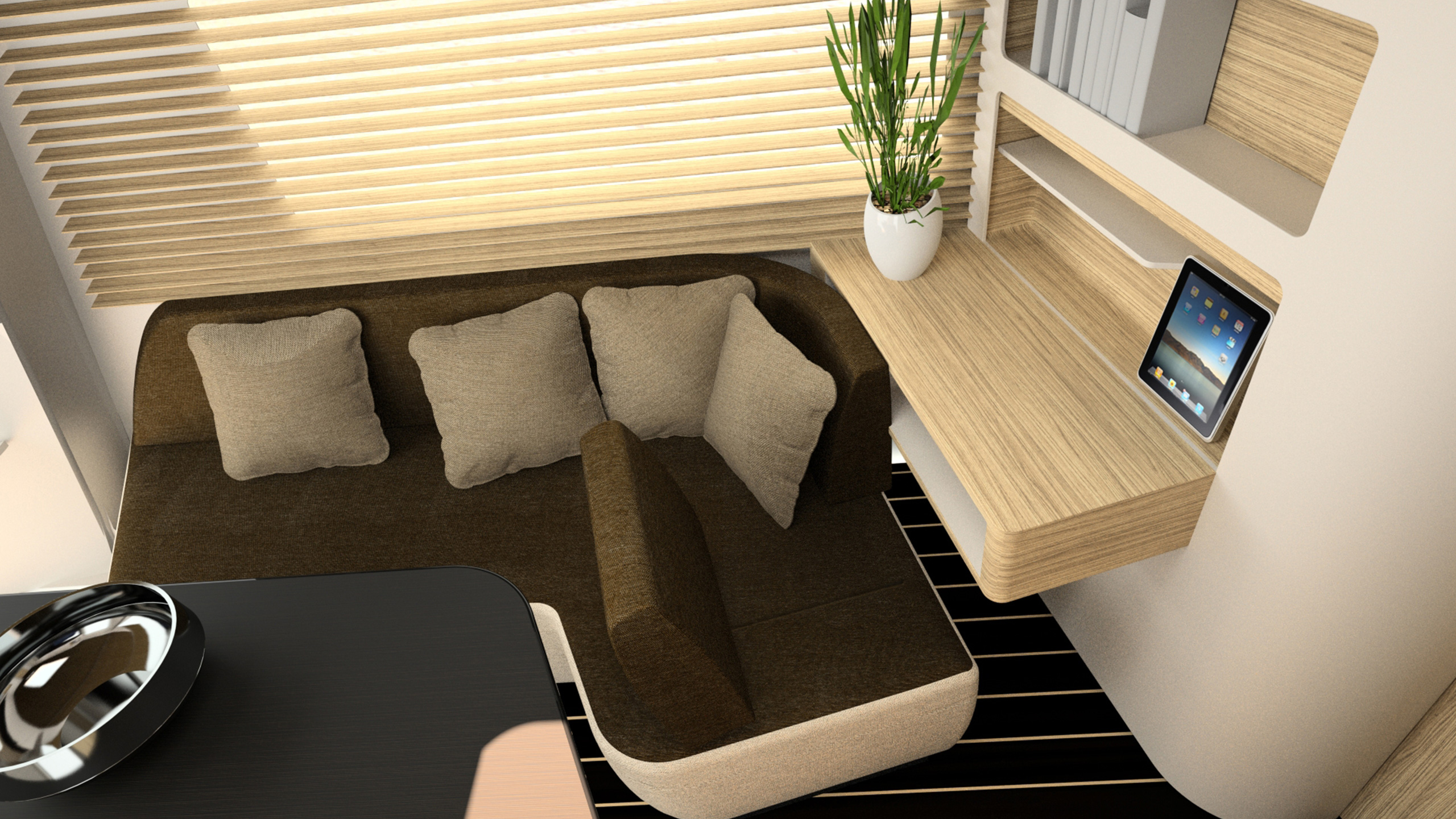 The sliding door closes the living area off from the outside and the double glazing insulates and protects the room. The veranda is folded up during driving and has room for 2 pedelecs. The bike holder is integrated into the floor of the veranda and not only supports the bikes, but also prevents them from theft. The charging system for the bike batteries is integrated into the stern side case and keeps the batteries in a charged state via induction. The stern canopy is folded down and turns into a protective tarpaulin. The bikes are protected from rain and vehicle spray and are also hidden from view.